Lean and Green Entree | Grilled Chicken Kabobs with Cucumber Mint Yogurt Sauce and Roasted Radishes
Get ready to tantalize your taste buds with a culinary delight that brings together the best of grilled chicken and vibrant, mouthwatering flavors. So fire up the grill, gather your loved ones, and get ready to savor the deliciousness of Grilled Chicken Kabobs.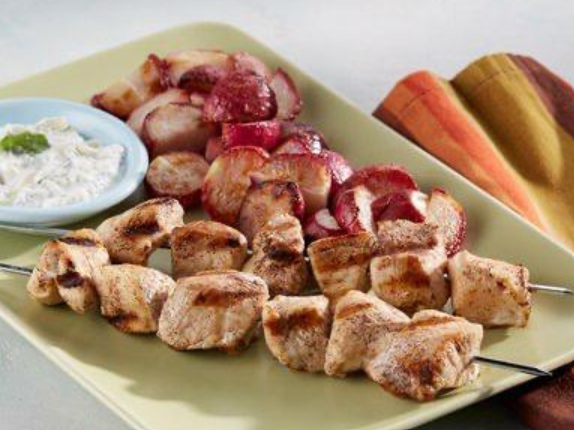 Lean and Green Entree | Grilled Chicken Kabobs with Cucumber Mint Yogurt Sauce and Roasted Radishes
1 LEANER | 3 GREEN | 1 HEALTHY FAT 
Ingredients
1

lb

boneless skinless chicken breasts

2

tsp

extra virgin olive oil, divided

1/2

tsp

ground allspice

1/4

tsp

kosher salt, divided

1/4

cup

plain low-fat Greek yogurt

1/4

cup

shredded cucumber, squeezed dry

1/4

tsp

minced garlic

1

tsp

lemon juice

2

tsp

fresh mint leaves, finely chopped

12

oz

radishes, trimmed and cut in half

1/8

tsp

ground black pepper

Cooking spray
Instructions
Cut the chicken into 1½-inch cubes or pieces and put them in a large bowl. Drizzle the chicken with half of the olive oil, then add the allspice and half of the salt. Toss well to evenly coat the chicken pieces.3. Cover and refrigerate for 30 minutes.

While the chicken marinates, make the yogurt sauce. Combine the garlic, lemon juice, cucumber, yogurt and mint in a small bowl. Mix well and set aside until ready to use.

 In a large bowl, toss the radishes with remaining olive oil, pepper, and remaining salt and place on a small parchment lined backing sheet in a single layer. Roast in a 450°F oven for 10 to 15 minutes or until fork tender.

While the radishes roast, spray the grates of an outdoor grill (or an indoor griddle) with nonstick cooking spray and heat. Thread the chicken pieces evenly on 8-inch long skewers (see note).

Grill the chicken skewers over medium-high heat, turning each kabob one-quarter turn every couple minutes, until the meat is browned all over, about 10 to 12 minutes.

To serve, divide the radishes and kabobs evenly onto plates and drizzle each with about 2 tablespoons plus 1 teaspoon sauce.

 Note: If using wooden skewers, soak in water for about 20 minutes prior to use.