Lean and Green Entree | Air Fryer Popcorn Shrimp Salads
If you're a fan of crispy, flavorful popcorn shrimp and refreshing salads, then this dish is perfect for you. So, grab your ingredients, fire up your air fryer, and get ready to enjoy a tantalizing salad that's sure to impress your taste buds and guests alike.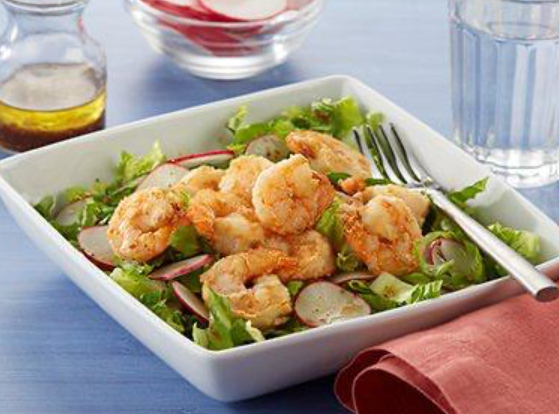 Lean and Green Entree | Air Fryer Popcorn Shrimp Salads
1 LEANEST | 3 GREEN | 2 HEALTHY FAT 
Ingredients
1

lb

 tail off, peeled, deveined small shrimp

1/4

tsp

kosher salt

1

egg white, well beaten

1/3

cup

almond flour

1 1/2

cups

thinly sliced radishes

3

cups

chopped romaine lettuce

1/4

cup

light balsamic vinaigrette
Instructions
Pat the shrimp dry with a paper towel. In a mixing bowl, toss the shrimp with the salt and beaten egg white until evenly coated. Add the almond flour and toss until evenly coated.

Preheat an air fryer to 400°F.

Arrange the shrimp in a single layer in the bottom of the air fryer's basket.6. Air fry the shrimp for 5 minutes, stir with a spoon, and then continue to air fry for 4 minutes until the shrimp are golden brown.

To prepare the salad, combine the romaine lettuce and radishes in a bowl, then pour in the balsamic vinaigrette and toss well.

Divide the salad and shrimp into equal-sized portions (about 2¾ cup of salad topped with ½ of the air-fried shrimp) and enjoy.