Lean and Green Entree | Bang Bang Chicken
Inspired by the bold and spicy street food of Asia, this dish is a mouthwatering combination of crispy chicken, a tantalizing sauce, and a symphony of aromatic spices. Each bite is a culinary adventure, as the tender chicken is coated in a crunchy, golden crust and then generously drizzled with a creamy, spicy sauce that will leave you craving more.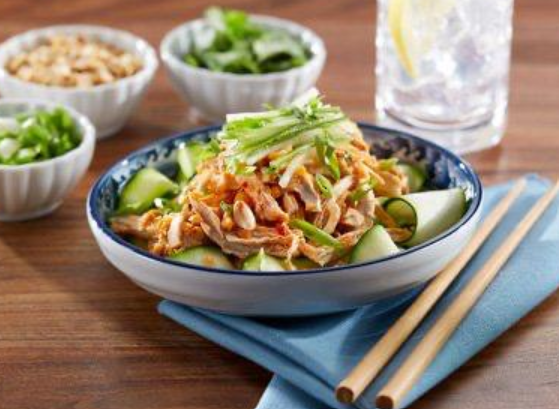 Lean and Green Entree | Bang Bang Chicken
1 LEANER | 3 GREEN | 1 HEALTHY FAT 
Ingredients
1

oz

chopped peanuts, divided

2

tsp

sambal

1

tsp

canola oil

4

cups

zucchini noodles

1 1/2

lbs

poached chicken breasts, cooled and shredded

1

medium cucumber, peeled, halved lengthways, seeds removed

2

spring onions, trimmed and finely sliced

1/2

cup

coarsely chopped coriander
Instructions
Using a food processor, rolling pin or the side of a chef's knife, crush half of the peanuts. In a small bowl, mix the crushed peanuts with the sambal and oil until blended.

Using a vegetable peeler, shave zucchini into thin ribbons to make pappardelle-like noodles. Cut cucumber into matchsticks.

Add peanut sauce and shredded chicken to the noodles, and toss gently with tongs.

To serve, place 1 cup zucchini noodles and 6 ounces chicken into each bowl. Neatly arrange a ½ cup of cucumber matchsticks on top of each bowl and garnish with about 2 tablespoons of both spring onion and coriander. Sprinkle remaining peanuts on top (about 7 peanut halves or ⅛ ounce per serving).