Keto Dessert | Crustless Pumpkin Pie (GF)
Pumpkin pie is a classic Thanksgiving dessert, but many traditional recipes are high in carbs and gluten. If you are looking for a healthier and more inclusive option, look no further than Crustless Pumpkin Pie! This delicious pie is made with a simple filling of pumpkin puree, eggs, cream, and spices, and it is baked in a pie plate without a crust. This makes it a great choice for those who are following the 5&1 plan or a keto or gluten-free diet.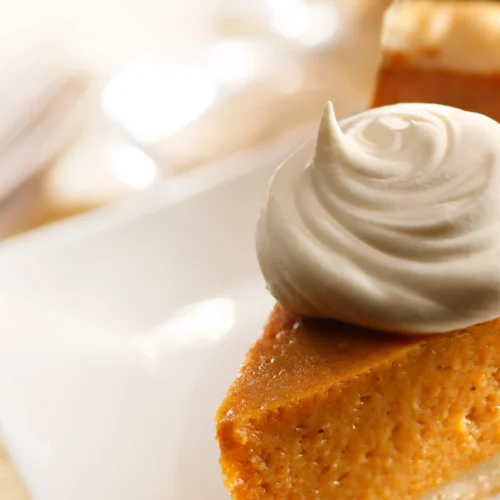 Green Dessert | Crustless Pumpkin Pie
Ingredients
2

cups

roasted kabocha squash

1/4

cup

unsweetened cashew or almond milk

2

egg whites

1/2

tsp

ground cinnamon

1/2

tsp

pumpkin pie spice

1/2

tsp

maple or vanilla extract

1

packet

Nustevia

28

walnut halves
Instructions
Preheat oven to 400 F. Line a baking pan with non stick foil. If the skin is too tough to cut, place kabocha in the microwave for 1-2 min. Cut the squash in half.

Spoon out all the seeds and cut into wedges. Lay the wedges on the prepared pan. Spray the wedges with non stick cooking spray. Bake for 30 minutes, Flip squash over and spray with cooking spray again. Bake for 10-15 min or until it is cooked. Let cool. Once cooled, peel or cut off the skin with a knife.

Measure out 2 cups of cooked squash, without the skin. Use the rest for another time.

To make pies, preheat oven to 425 F. Spray 4 ramekins with non stick cooking spray. Add 2 cups of squash (without the skin) and the rest of the ingredients, except the walnuts to the blender. Blend until smooth.

Pour mixture into ramekins. Bake for 15 minutes. Reduce heat to 350 F. Remove ramekins from oven and evenly distribute the walnuts on top of each ramekin. Bake for additional 25 minutes.