Lean and Green Entrée | Salmon Florentine
I originally wanted to feature this as a healthy alternative to a "fish fry" during lent – but it's so much more than that. Eating fish is SO healthy, let's go over some of the data from WebMD.
The vitamin B12 in salmon keeps blood and nerve cells humming and helps you make DNA. But for your health, the true beauty of salmon is its wealth of omega-3 fatty acids. Most omega-3s are "essential" fatty acids. Your body can't make them, but they play critical roles in your body. They can lower the chance that you'll have:
They can also ease the effects of rheumatoid arthritis.
Experts recommend all adults eat at least two portions (a total of 8 ounces) of seafood a week, especially fish that are high in omega-3s like salmon. The FDA and the EPA both suggest that children eat 1-2 servings (about 2 to 4 ounces) of seafood a week starting at age 2. Pregnant women and young children should avoid fish with the most mercury. Luckily, salmon is not one of them.
The Recipe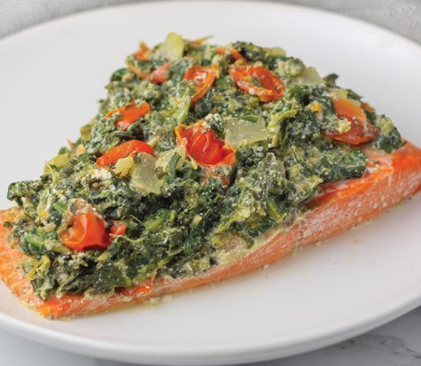 Lean and Green Entree | Salmon Florentine
1 LEAN | 3 GREEN | 3 CONDIMENTS
Ingredients
1/2

cup

chopped green onions

1

tsp

olive oil

2

garlic cloves, minced

1

12 oz package of frozen chopped spinach, thawed and patted dry

1 1/2

cup

chopped cherry tomatoes

1/4

tsp

crushed red pepper flakes

1/4

tsp

salt

1/4

tsp

pepper

1/2

cup

part skim ricotta cheese

4

5 1/2 oz wild salmon fillets

cooking spray
Instructions
In a medium skillet, cook onions in oil until they begin to soften, about 2 minutes. Add garlic and cook 1 minute more. Add the spinach, tomatoes, red pepper flakes, salt and pepper. Cook, stirring for 2 minutes. Remove from heat and let cool for 10 minutes. Stir in the ricotta.

Place a quarter of the spinach mixture on top of each salmon fillet. Place fillets on a lightly greased rimmed baking sheet and bake for 15 minutes or until salmon is cooked through.
SHOP SALMON FAVORITES