Lean and Green Entree | Beef and Chinese Broccoli
No time but need a healthy recipe for the week? This meal is so quick and easy but even more delish!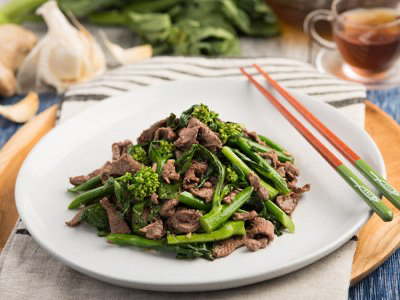 Lean & Green Entree | Beef and Chinese Broccoli
1 LEAN | 3 GREEN | 3 CONDIMENT
Ingredients
1

tsp

baking soda

1¼

lb.

top round beef, sliced ¼-inch thin and 2-inches long

¼

tsp

black pepper

6

cups

Chinese broccoli, leaves and stems separated, washed

2

tsp

fresh ginger root, peeled and minced

3

cloves

garlic, minced

1

tbsp

light soy sauce

2

tbsp

oyster sauce

1/8

tsp

salt
Instructions
Slice beef and toss with baking soda. Set aside for 30 minutes.

Slice stems of broccoli ¼-inch thin and 2-inches long diagonally; keep separate from leaves. Roughly chop the leaves into bite-sized pieces.

Heat a wok or nonstick skillet until hot and sear the beef about 30 seconds on one side until brown. Add garlic, ginger, oyster sauce, soy sauce, and black pepper. Stir together and cook for another 15 seconds; remove from wok or skillet.

Use the same wok or skillet to stir-fry the broccoli. Heat on high, add broccoli stems, and stir-fry until semi-tender. Add leaves, and pour all of the beef including juices back into the wok or skillet. Toss to combine.

Tip: Substitute broccoli or broccolini for the Chinese broccoli.