Lean and Green Entree | Spaghetti Squash Waffle Grilled Cheese
Check out this quick and easy twist on the classic grilled cheese…. YUM!!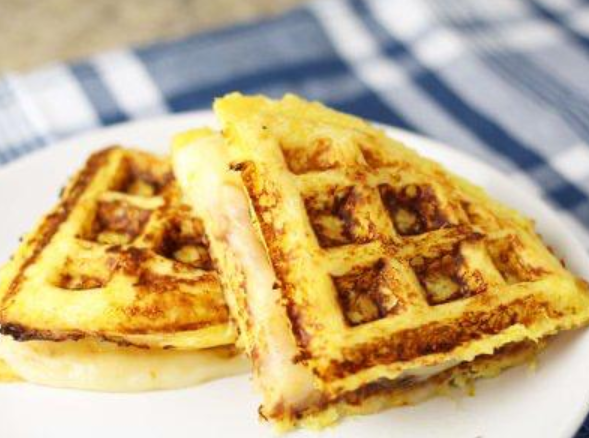 Lean and Green Entree | Spaghetti Squash Waffle Grilled Cheese
1LEAN | 3 GREEN | 3 CONDIMENTS
Ingredients
6

cups

cooked spaghetti squash

4

eggs

2/3

cup

grated parmesan cheese

2

cups

reduced fat shredded cheddar cheese

1/4

tsp

salt
Instructions
Place cooked spaghetti squash (in two batches) into a cheesecloth or clean, thin dishtowel, and squeeze out as much liquid as possible.

In a medium-sized bowl, combine spaghetti squash, eggs, parmesan, and salt, and mix until well-combined.

Preheat a waffle iron to medium-high heat. Spread mixture in an even layer in greased waffle iron, and cook until golden brown and set, about 10 minutes.

Sprinkle cheddar cheese onto one half of spaghetti squash waffle, and fold over other half on top. Close waffle iron gently and continue cooking until cheese is melted to your liking. Serve immediately.
Notes
Note: To cook spaghetti squash, preheat oven to 400°F. Prepare the spaghetti squash by cutting it in half and removing the seeds and pulp strands. Place each spaghetti squash half face down on a foil-lined baking sheet, and bake for 40 to 45 minutes, until middle is tender and pulls apart easily. Allow squash to cool slightly before carefully scraping the flesh out with a fork to create spaghetti-like strands. Measure out 3 cups of cooked spaghetti squash and save any leftovers for another meal.
Tip: If you do not have a waffle iron, use a skillet instead. Heat a lightly-greased skillet over medium-high heat. Once hot, carefully pour the spaghetti squash mixture into the skillet to make a pancake-like shape. Cover, and cook until mixture is golden brown and set, about 10 minutes. Using a spatula, carefully cut the pancake in half. Sprinkle cheese onto one half, and place the other half on top. Cover, and continue to cook until cheese has melted.