Lean and Green Entree | Crab Cauli Mac & Cheese
A little seafood twist on a recipe that everyone knows and loves! Keeping it healthy and throwing a lean in there… Who could ask for more?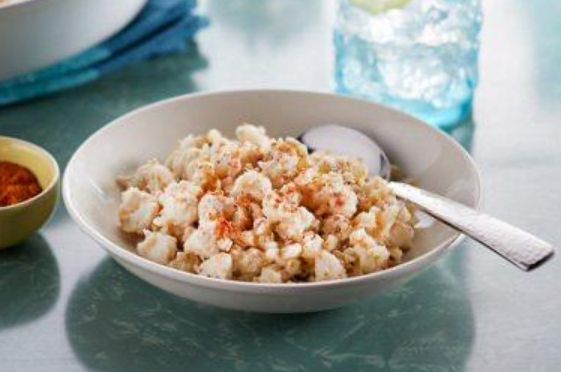 Lean and Green Entree | Crab Cauli Mac & Cheese
1lEANEST | 3 GREEN | 2 HEALTHY FAT | 2 CONDIMENTS
Ingredients
1

lb

lump crabmeat

1

tsp

olive oil

1 2/3

cups

reduced fat mozzarella cheese

6

cups

riced cauliflower, divided

3/4

tsp

salt, divided

1

scallion, trimmed

3

spreadable cheese wedges

1

cup

water

1

tsp

seafood seasoning, such as Old Bay (optional)
Instructions
Cook two cups of the cauliflower rice in microwave for 5 minutes until soft.

Combine the cooked cauliflower with the spreadable cheese wedges, a ½ teaspoon salt, mozzarella, scallion, and water in a blender.

Puree into a smooth sauce. Set aside and keep warm.

Heat the oil in a large skillet and saute the remaining 4 cups cauliflower rice over high heat until lightly caramelized 3 to 4 minutes.

Add a ¼ teaspoon salt, and carefully fold in the crabmeat. Continue to saute until heated through.

Stir in the cauliflower puree and sprinkle with seafood seasoning if desired.