Lean and Green Entree | Korean Tuna Kimbap
This very popular Korean dish is easy to make and so tasty! Make for a quick dinner or put together for gatherings with family or friends but either way, enjoy this mouth watering dish!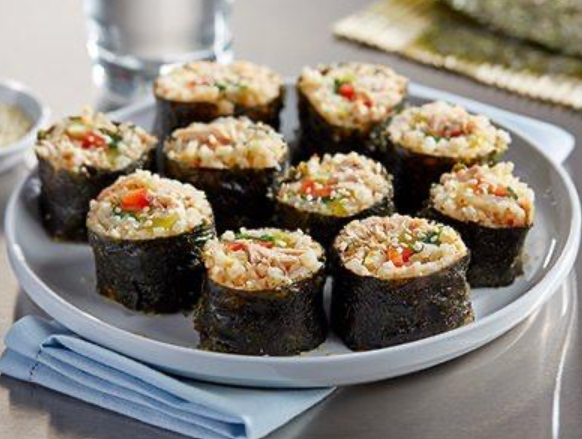 Lean and Green Entree | Korean Tuna Kimbap
1 LEANEST | 3 GREEN | 2 HEALTHY FAT 
Ingredients
21

oz

 tuna (canned in water), drained

3

eggs, beaten

1

cup

frozen spinach, thawed, drained, and patted dry

1/2

cup

no sugar-added kimchi, drained

8

sheets

nori

2

tsp

oil, divided

4

oz

pickled yellow radish (sugar-free, Japanese or Korean), cut into 8 thin strips

1

medium red bell pepper, seed and membrane removed, cut into 16 long thin strips

4

cups

riced cauliflower

1

tbsp

rice vinegar

3

tsp

sesame oil, divided

1 1/2

tbsp

sesame seeds

1/8

tsp

calorie-free sugar substitute
Instructions
Preheat oven to 350°F. Mix cauliflower rice with 1 teaspoon sesame oil and spread evenly onto a sheet pan lined with parchment paper. Bake for 10 to 15 minutes until tender. Let cool, and then mix in rice vinegar, 1 teaspoon sesame oil, kimchi and sugar substitute; set aside.

Heat the remaining oil over medium-high heat in a nonstick skillet. Pour beaten egg into skillet, and cover with lid. Allow eggs to set and the bottom to firm, and then flip the egg over to allow the other side to cook until lightly brown. Once cooked, transfer to a flat plate and cut into 16 long strips.

Assemble kimbap: Lay a sheet of nori on a kimbap rolling mat and spread one quarter of the cauliflower rice mixture in an even layer onto the half of the sheet closest to you (cover only half of the sheet, and leave a ¾-inch rim around the other sides of the cauliflower). Add the fillings (2 tbsp spinach, 2 strips bell pepper, 2 egg strips, 1 strip yellow radish, 2½ ounces tuna), placing them horizontally on the cauliflower rice, and leaving some cauliflower rice exposed both behind and in front of them. Roll the kimbap by folding the side of exposed nori closest to you over the filling, tucking all of the filling into the first complete roll. Continue rolling until you get to the end of the nori sheet.

Repeat with remaining nori sheets, cauliflower rice, and fillings (you should end up with eight rolls). Slice rolls into pieces using a clean, sharp knife. Drizzle with sesame seeds and serve.