Lean and Green Entree | Greek Chicken Burgers with Tzatziki Sauce
With BBQ season upon us, it's always nice to have a variety of ideas to take to your grill. These are on plan and absolutely delicious!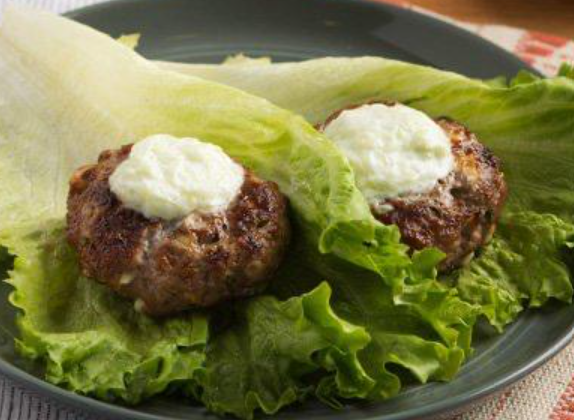 Lean and Green Entree | Greek Chicken Burgers with Tzatziki Sauce
1 LEANER | 3 GREEN | 1 HEALTHY FAT
Ingredients
1

small cucumber

1/2

tbsp

chopped fresh mint

1

tbsp

chopped fresh dill

1/2

tbsp

lemon juice

1

clove

minced garlic

1

cup

plain, low-fat Greek yogurt

2

oz

reduced fat feta

1

egg

1

cup

chopped fresh spinach

10

chopped and pitted kalamata olives

1

tbsp

cornstarch

1

tsp

dried oregano

2

cloves

garlic, chopped

1/2

tsp

salt

1/4

tsp

pepper

1

lb

95-97% lean ground chicken

2

tsp

olive oil

2

sliced tomatoes

1

 small head iceberg lettuce, cut into eight bun-sized pieces
Instructions
Chop half of the cucumber into small pieces, and place in a small bowl. Slice remaining cucumber into thin slices for sandwiches, and set aside. Add remaining sauce ingredients to small bowl, and refrigerate until ready to use.

In a large bowl, combine the first nine burger ingredients. Add chicken, and mix lightly but thoroughly. Shape into four burger patties.

Moisten a paper towel with oil, and, using cooking tongs, rub on grill rack to coat lightly. Add burgers, and grill covered, over medium heat, until a meat thermometer reads 165°F (about 5-7 minutes on each side).

Serve on iceberg lettuce "buns" with tomato slices, remaining cucumber, and sauce.