Lean and Green Side Dish | Green Bean Casserole
Looking for a great recipe to take for the holidays? Look no further as this is a tried and true dish that many expect to see as they pass the dishes along while they make their plates….and it's on plan!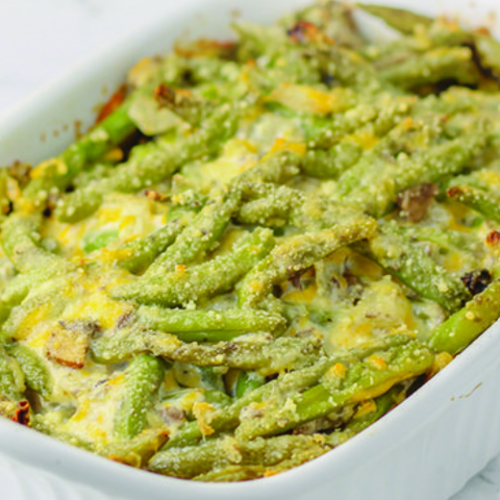 Lean and Green Side Dish | Green Bean Casserole
1/4 LEANER | 3 GREEN | 3 CONDIMENTS | 1/2 HEALTHY FAT
Ingredients
1 16

oz

bag frozen whole green beans

2

cups

mushrooms

chopped

1/4

cup

diced yellow onion

1

clove

garlic

minced

3/4

cup

non fat plain Greek yogurt

1/4

cup

reduced fat sour cream

1

tsp

cornstarch

1/2

packet

stevia

1/2

tsp

salt

1/2

tsp

pepper

1/2

cup

reduced fat shredded cheddar cheese

2

tbsp

grated parmesan cheese

cooking spray
Instructions
Microwave green beans according to package directions.

Lightly grease a medium sized skillet and heat over medium heat. Cook mushrooms, onion, and garlic until tender, about 5 to 7 min. Combine mushroom mixture with green beans in a medium sized bowl, and let cool.

Meanwhile, combine Greek yogurt, sour cream, cornstarch, stevia, salt, and pepper in a small bowl. Toss vegetables in sauce mixture until evenly coated. Add cheddar cheese and mix until well combined.

Spread into a lightly greased baking dish, top with parmesan, and bake until topping is golden brown, about 30 to 35 minutes.