Lean and Green Side Dish | Spaghetti Squash Gratin
Looking for a delicious and healthy side dish to serve at your Thanksgiving or Christmas dinner? Look no further than Spaghetti Squash Gratin! This savory dish is made with spaghetti squash, which is a low-carb and gluten-free alternative to pasta. The best part? For those on plan it's 5&1 approved!!
Why Spaghetti Squash Gratin is Perfect for the Holidays
Healthy and Low-Carb: Spaghetti Squash Gratin is a great option for those who are watching their carb intake. Spaghetti squash is a low-carb vegetable that is also a good source of fiber.
Gluten-Free: Spaghetti Squash Gratin is made with gluten-free ingredients, making it a safe and delicious option for those with celiac disease or gluten intolerance.
Easy to Make: Spaghetti Squash Gratin is surprisingly easy to make. Simply roast the spaghetti squash, then toss it with the ingredients below.
Delicious and Versatile: Spaghetti Squash Gratin can be customized to your liking if you're not on plan anymore. Use your favorite sauce, cheese, and vegetables to create a dish that your family will love.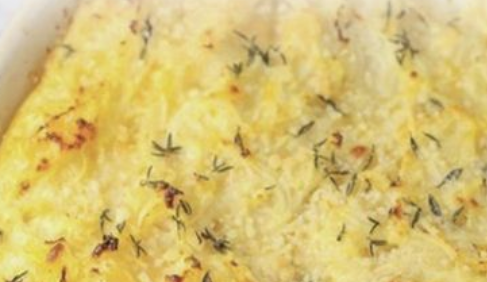 Lean and Green Side Dish | Spaghetti Squash Gratin
1 LEAN | 3 GREEN | 3 CONDIMENTS
Ingredients
1, 2 1/2

lb

spaghetti squash

(to yield about 3 cups of spaghetti squash)

2

eggs

1

cup

reduced fat shredded cheddar cheese

1/2

cup

plain low fat Greek yogurt

2

cloves

garlic

minced

1/2

tbsp

fresh thyme

1/4

tsp

salt

1/4

tsp

pepper

1/4

cup

reduced fat grated parmesan cheese

cooking spray
Instructions
Halve the squash and scoop out the seeds. Bake face down on a baking sheet lined with parchment paper until squash is easily pierced with fork, about 30 minutes. Allow to cool, then scoop out spaghetti strands and place in a large bowl.

Meanshile, in a medium sized bowl, mix remaining ingredients except for the parmesan cheese. Stir mixture into the spaghetti squash strands.

Spread into a lightly greased casserole dish. Top with parmesan and press down to moisten. Bake uncovered for 30 mintues.